At a Glance
Solutions
Commercial Reverse Osmosis
Commercial Water Softening
Commercial Filtration
Office Centralized Reverse Omsosis
Office Water Coolers
Products
Commercial Reverse Osmosis Products
Commercial Water Softening Products
Commercial Filtration Products
Office Centralized Systems Products
Office Water Cooler Products
Take a Closer Look: Boston Scientific
Bluedrop's commercial purification capabilities provide clients such as Boston Scientific with a single-source partner that can tackle a wide range of treatment needs for both drinking water and process water. From centralized building reverse osmosis systems to high purity laboratory-grade water applications, Bluedrop is a trusted partner for the installation, service and maintenance of sophisticated treatment systems.
Boston Scientific is a developer, manufacturer and marketer of medical devices that are used in a range of interventional medical specialties. Boston Scientific has approximately 36,000 employees across six continents with its world headquarters located in Marlborough, MA.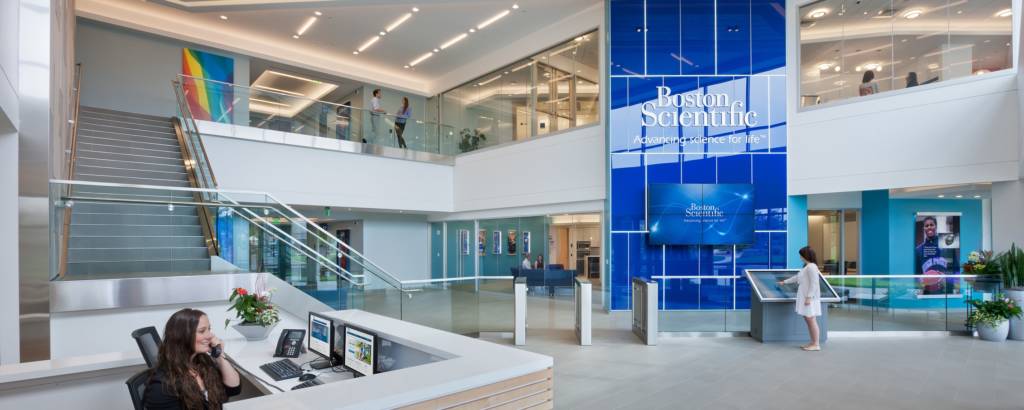 System Design & Reliable Service
Boston Scientific tasked Bluedrop with completing a variety of projects across multiple buildings and properties. Many of Bluedrop's installations were aligned with active building renovations requiring significant coordination between Bluedrop, the client and various trades. Bluedrop installed several centralized reverse osmosis systems for employee drinking water and laboratory applications. Treatment techniques used on the property include water softening, water filtration, reverse osmosis, deionization and ultraviolet light disinfection. Bluedrop's centralized systems purify and store water in atmospheric tanks prior to being sanitized and delivered to hundreds of points of use on site including laboratories, cafes, break rooms and drinking water stations.
Contact Bluedrop to support your upcoming high purity or centralized reverse osmosis project