Resources
Symptoms of Hard Water in your Home
At a Glance
Solutions
Residential Water Softening
Whole Home Filtration Systems
Products
Residential Water Softening
Whole Home Filtration Systems
Do you think your home has hard water? Not sure what to look for exactly? While a water analysis is the only way to definitively tell, there are a few tell-tale symptoms associated with having hard water. They include:
Clothes and bedding becoming dull and/or scratchy after several washes despite using more detergent and softener to try to mitigate the effects of the washing.
Dishware comes out spotty or cloudy. No matter how many times you run your washing machine or how much dish detergent you use, your dishes always come out looking dirty.
Dry skin and dull hair after a shower. Itchy scalp and skin especially in the dry winter months are also common.
A noticeable decrease in your homes water pressure. This can be seen in sinks, showers/tubs, and even your appliances.
You notice a rise in your home's energy or water bills that you can't seem to explain
Unsightly scale buildup at your water fixtures (faucets, tubs, shower heads). This is presented a white "mineral" buildup that you find yourself constantly scrubbing these messes away.
Hard water may present itself in many different forms. If you find yourself with any of these symptoms, Bluedrop is here to help keep your family and home safe! We offer water sample test kits and would love to set up a time to speak with you more. Additionally, if you would like to learn more about hard water or water softeners, click here.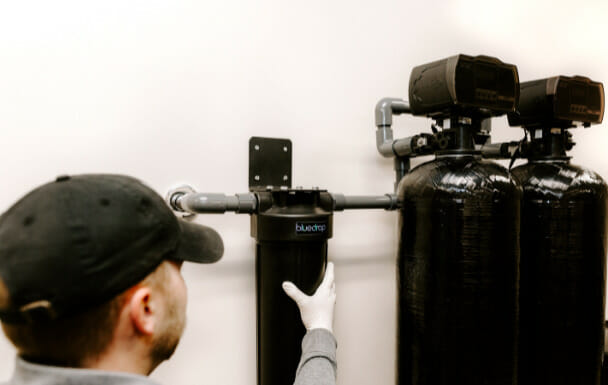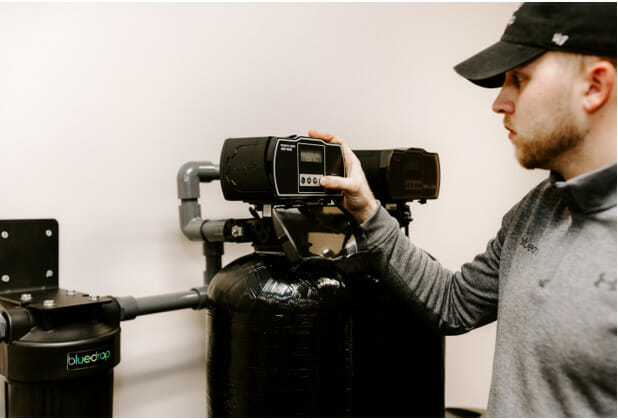 Contact us today to schedule a water test and see if a water softener is right for your home