Resources
Blog Posts
Contaminants/Other
News & Press
PFAS News – June 15th, 2022
What was the PFAS news recently announced by the White House & Environmental Protection Agency?
On Wednesday, June 15th, 2022, the Environmental Protection Agency shocked scientists by releasing new health advisories for PFAS compounds known as "forever chemicals". According to the Environmental Working Group, a health research and activist group, potentially 200 million citizens of the United States have been exposed to these chemicals.  Preliminary research has indicated that exposure to these chemicals can lead to serious health effects such as a weakened immune system, low birth weight, and various forms of cancer.
As reported by USA Today, "The new advisories cut the safe level of chemical PFOA by more than 17,000 times what the agency had previously said was protective of public health, to now just four "parts per quadrillion." The safe level of a sister chemical, PFOS, was reduced by a factor of 3,500."
According to the EPA on June 15th, 2022, the "EPA is issuing interim, updated drinking water health advisories for perfluorooctanoic acid (PFOA) and perfluorooctane sulfonic acid (PFOS) that replace those EPA issued in 2016. The updated advisory levels, which are based on new science and consider lifetime exposure, indicate that some negative health effects may occur with concentrations of PFOA or PFOS in water that are near zero and below EPA's ability to detect at this time."
From the White House Briefing Room on June 15th, 2022, "The updated advisory levels are based on new science that indicates that some negative health effects may occur with concentrations of PFOA or PFOS in water that are near zero."
What are the effects of PFAS?
Whether you are exposed to PFAS from your water, clothes, or from a different source, PFAS are incredibly damaging and toxic to humans. Recent studies have begun to enlighten us to the full scope of the effects on the body. So far, we know that PFAS can cause a litany of issues including but not limited to:
Birth defects, and general disruption in child development and growth

Severe damage to kidneys and liver

Infertility

Increase risk of many forms of cancer

Immune system suppression

Increased cholesterol
What can I do to protect my home?
PFAS in your water can be addressed with the installation of either a specialized whole-home filtration system or a point-of-use reverse osmosis system. A whole-home filtration system is installed where water enters your home, targeting PFAS as well as many other contaminants including lead to provide additional protection for your entire home.
Bluedrop offers a range of Whole Home (point-of-entry) filtration systems designed to target PFAS compounds along with many other common contaminants. Bluedrop offers homeowners treatment techniques which are smaller versions of the systems Bluedrop provides to its larger municipal and institutional clients.  
Additionally, Bluedrop offers point-of-use Reverse Osmosis systems that can be installed under a kitchen sink to provide purified water for drinking, cooking, coffee, tea and ice. Reverse Osmosis is commonly used by bottled water companies to purify water and is highly effective against PFOA/PFOS and numerous other common contaminants, especially when combined with a whole home treatment system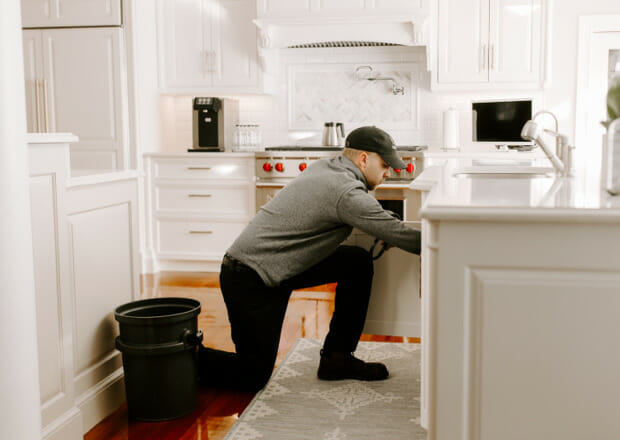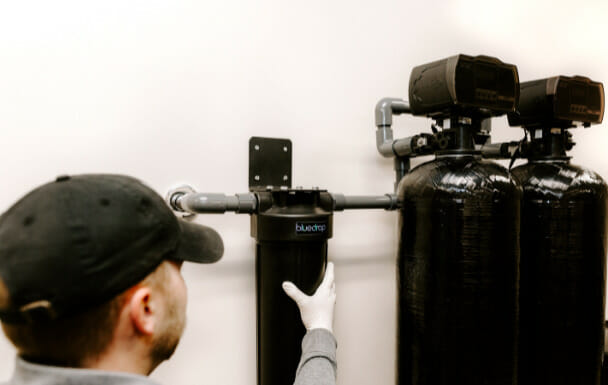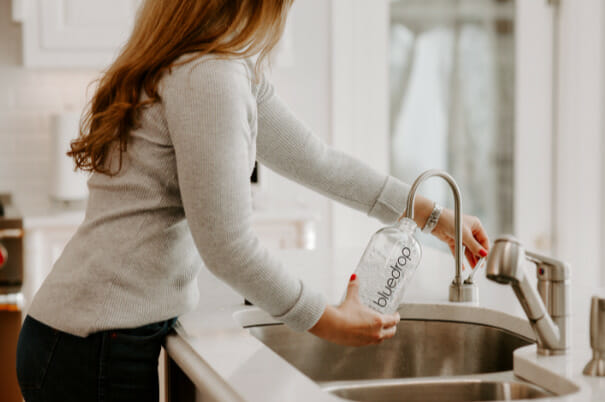 Contact Bluedrop today to learn about our Residential PFOA/PFOS treatment solutions