Resources
PFAS Detected in Wayland, MA: What to do?
At a Glance
Solutions
Residential Whole Home Filtration Systems
Residential Reverse Osmosis
Products
Residential Whole Home Filtration Systems
Residential Reverse Osmosis
PFAS in Wayland, MA
Officials from the town of Wayland have announced that they have found elevated levels of PFAS in their municipal water supply. The town is currently working to deliver a remedy for the situation with state officials. The town will be updating its website with specific details of the plan at a later date but has said they will be utilizing bottled water as a temporary solution for Wayland residents.
What are PFAS?
They are a family of manmade chemicals that have historically had many different applications and uses. From firefighting foam, non-stick pans, and plastic packaging, they have found a way into everyday life. These nearly 5000 different chemicals have saturated both ground and surface water as well as soil exposing over 200 million Americans. They are incredibly hard to break down in nature. While there are finally studies and regulations being spun up, there is still a very long road ahead to fully combat these chemicals.
There are 6 major PFAS chemicals Massachusetts monitors (Referred to as PFAS6) include:
• Perfluorooctane sulfonic acid
• Perfluorooctanoic acid
• Perfluorohexane sulfonic acid
• Perfluorononanoic acid
• Perfluoroheptanoic acid
• Perfluorodecanoic acid
What are the effects of PFAS?
Whether you are exposed to PFAS from your water, clothes, or from a different source, PFAS are incredibly damaging and toxic to humans. Recent studies have begun to enlighten us to the full scope of the effects on the body. So far, we know that PFAS can cause a litany of issues including but not limited to:
• Birth defects, and general disruption in child development and growth
• Severe damage to kidneys and liver
• Infertility
• Increase risk of many forms of cancer
• Immune system suppression
• Increased cholesterol
What are the regulations regarding PFAS in MA?
Massachusetts recently passed what is considered to be some of the most stringent regulations in the country regarding PFAS exposure. Currently, the state has a limit of 20 parts per trillion of combine PFAS6 chemicals. Any town found above this limit is subject to fines and must work to upgrade their municipal water systems to ensure proper decontamination of the chemicals.
How are PFAS Tested?
Because there are still many unknowns regarding PFAS, the best way to test for them is to send a water sample to a certified lab for analysis. Bluedrop currently offers a test kit that will show PFAS levels along with many other water quality parameters.
What Can I Do to Protect My Home?
PFAS in your water can be addressed with the installation of either a specialized whole-home filtration system or a point-of-use reverse osmosis system. A whole-home filtration system is installed where water enters your home, targeting PFAS as well as many other contaminants including lead to provide additional protection for your entire home.
Bluedrop offers a whole home (point-of-entry) filtration system that has been tested and third-party certified as required in the NSF/ANSI P473 standard for PFOA/PFOS, along with NSF/ANSI 53 standard for the reduction of lead and cyst.
Additionally, Bluedrop offers point-of-use Reverse Osmosis systems that can be installed under your kitchen sink to provide purified water for drinking and cooking. Reverse Osmosis is commonly used by bottled water companies to purify water and is highly effective against PFOA/PFOS and numerous other common contaminants.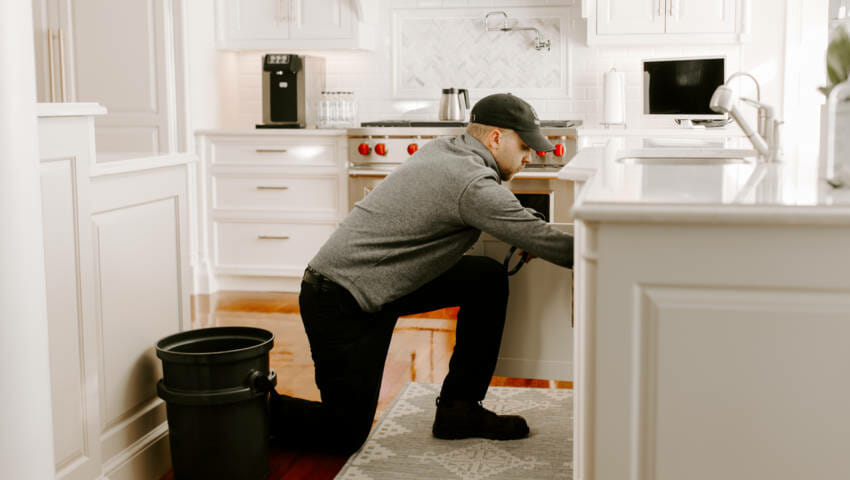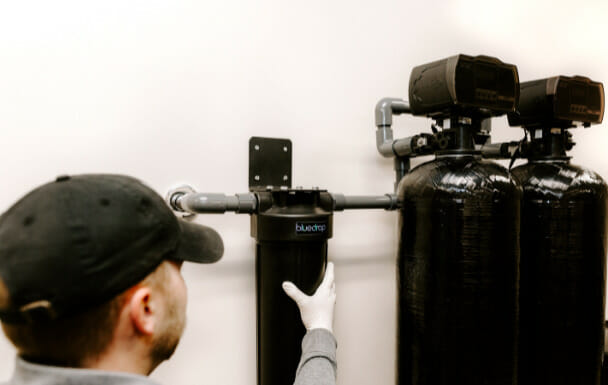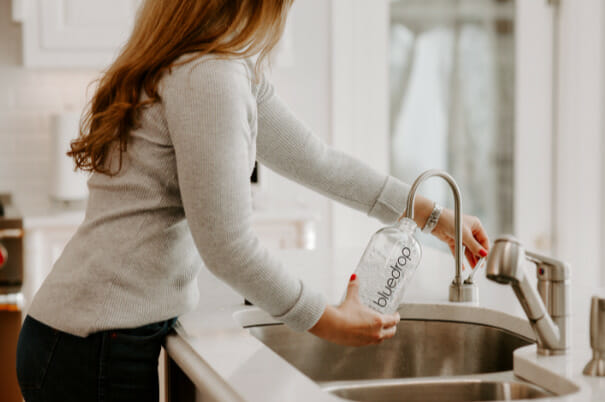 Increasing community awareness and knowledge of PFAS is also crucial in protecting your home and area. The State of Massachusetts Department of Environmental Protection offers additional information regarding their research, regulations and suggestions. Their 4-page Face Sheet is available for download below. Additional Bluedrop resources are also linked below.
Contact Bluedrop today to learn about our Residential PFOA/PFOS treatment solutions