At a Glance
Solutions
Drinking Water Filter Systems
Residential Reverse Osmosis Systems
Products
Drinking Water Filter Systems
Residential Reverse Osmosis Systems
Lead in drinking water is among the most common, and serious, forms of drinking water contamination in the United States. Despite regulations and changes to lessen the impact and protect homeowners, the risk of lead in your water still remains. But what exactly are the effects and how does it reach me?
What are the effects of Lead?
No amount of exposure to lead is considered safe. Elevated levels of exposure carry many risks. Some of these include:
Increase in blood pressure
Decrease in kidney health
Increase risk of infertility and children being born with birth defects
Lower IQ levels in children
Behavior and learning issues in children
Risk of anemia
Memory issues
Gastrointestinal pain and problems
How does lead reach me?
Americans are most commonly exposed to lead these days through their water. The water is contaminated by old pipes and overall water infrastructure that has yet to be updated. As these pipes age and corrode, lead is leeched into the water. Thankfully, many states have worked diligently to replace these old systems in order to protect their citizens, but not everywhere is entirely safe.
Older homes can also contain lead pipes for their internal plumbing, increasing homeowners' risk of exposure exponentially.
How do I know if there is lead in my water?
Lead is known as a "silent" issue as there is no noticeable taste or odor difference when your water contains elevated levels of lead. You will have to order a water sample test kit, which Bluedrop would be happy to help with.
How Can I Protect my Home?
The first step is to make certain that you do not have lead pipes in your home. Additionally, you should check with your town or city to see if their infrastructure has been updated.
To eliminate any lead coming into your home, you have a few different approaches you can take. The first is to install a whole home filtration system at your water point of entry. This will eliminate lead that is flowing into your home, before it gets into your plumbing. This system will be designed specifically to treat all water issues at your home, based off of the results of a water sample test.
A second option to protect yourself is to install a reverse osmosis system for drinking water in your kitchen.  This system is designed to supply you perfect, refreshing, and clean drinking and cooking water. These systems eliminate nearly all contaminants in your water, lead included.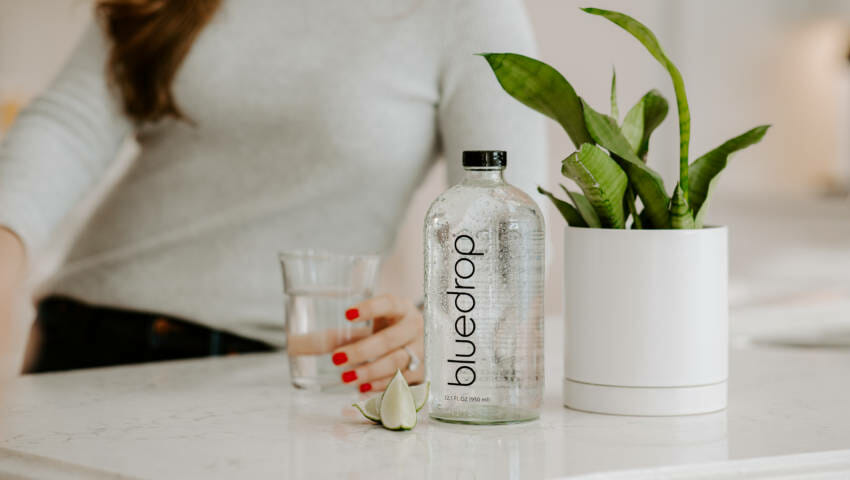 Need help developing a comprehensive water treatment plan for your home?